Home
>
Products
>
Compact Fluorescent Lamps
Electronic Ballast / Plug-in Compact Fluorescent Lamp
5W-26W, 100-240V, 2700K-6400K, Electronic Ballast
Jinhui wholesales Electronic Ballast / Plug-in Compact Fluorescent Lamp from China, Just 200 pieces get wholesale price, right now.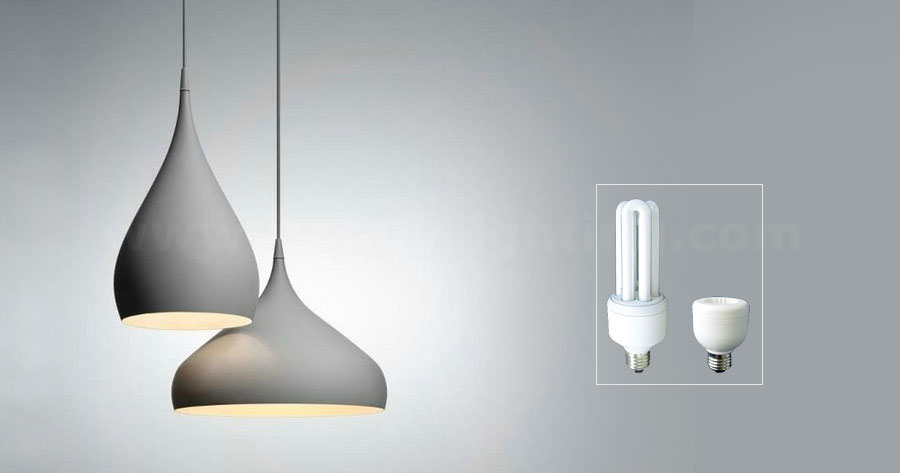 The special design of the electronic compact fluorescent ballast makes the compact fluorescent tube to be separated and replaced separately from the socket base (also called fluorescent lampholder ). Once the bulb tube is found in failure (burn out), replacement is quick and easy by any bulb tubes as indicated at the packing. This makes the best in the environmental and economic considerations without total disposal of the bulb. Also, the bulb tubes can be available from many countries.
---
R7S energy saving lamp for flood lighting fixture:
The new R7S energy saving lamp is designed for replacing conventional 118mm halogen lamp. Its more friendly environmental with less heat and UV and also more energy saving and efficient with high flux. It can be replaced directly.
Specification of R7S energy saving lamp: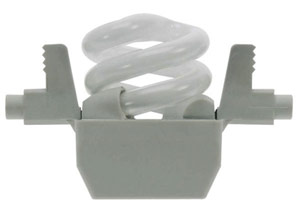 Cap Type: R7S

Tube: 3U / 4U / Spiral

Wattage: 24W/30W

Voltage: 220-240V

Equivalent Wattage: 125W/150W

Colour : 2700-6500K

Lifetime: 8000H

Lumens: 1520lm/1800lm

Dimensions: 60*63.1*118mm
Feartures of R7S energy saving lamp:
long life up to 10000hrs

saving energy up to 80% saving

instant on, flicker free

Available color temprature: 2700K,6500K

certificate: ISO, CE, EMC, RHOS

high lumen output

excellent lumen maintenance
Application of R7S energy saving lamp:
Open hangling, outdoor lights, table lamp, floor lamp,ceiling fixture and wall lightings, etc.
---
Model: YB-8 Replacement Compact Fluorescent Bulb
Supply Voltage: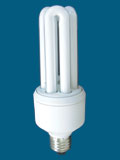 100-240V/50-60Hz
Color Temperature: 2700K or 6400K
Base Type: E26, B22, E27
Model
Wattage
(W)
Luminous
Flux(lm)
Diameter
(mm)
Length
(mm)
Carton meas.
(100 pcs)
YB-8
11
550
58
145
64.5*32.5*36.5cm
YB-8
13
650
58
155
64.5*32.5*38.5cm
YB-8
15
750
58
164
64.5*32.5*40.5cm
YB-8
18
900
58
170
64.5*32.5*41.5cm
YB-8
20
1000
58
175
64.5*32.5*42.5cm
YB-8
22
1100
58
180
64.5*32.5*43.5cm
YB-8
24
1200
58
185
64.5*32.5*44.5cm
YB-8
26
1300
58
190
64.5*32.5*45.5cm
** For this compact fluorescent bulb, If you replace fluorescent tube, please adopt tube with G24q feet and G24dfeet(2 pin and 4 pin tubes are available). You would better adopt our tubes.We can not assure the long life of compact fluorescent bulbs, if you adopt other fluorescent tubes.
---
Model: YB-38 Electronic Ballast / Compact Fluorescent Bulb Holder
Supply Voltage: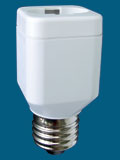 100-240V/50-60Hz
Color Temperature: 2700K or 6400K
Base Type: E26, B22, E27

Model
Wattage
(W)
Tube Feet
Diameter
(mm)
Length
(mm)
Carton meas.
(200 pcs)
YB-38
5
G23
40
81
46.5*23.5*39cm
YB-38
7
40
81
46.5*23.5*39cm
YB-38
9
40
81
46.5*23.5*39cm
YB-38
11
40
81
46.5*23.5*39cm
** G23 is for choke/starter operation
---
Model: YB-39 Electronic Ballast / Compact Fluorescent Bulb Holder
Supply Voltage: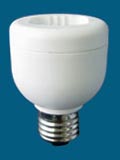 100-240V/50-60Hz
Color Temperature: 2700K or 6400K
Base Type: E26, B22, E27

Model
Wattage
(W)
Tube Feet
Diameter
(mm)
Length
(mm)
Carton meas.
(100 pcs)
YB-39
9
56
77
61.5*31.5*21cm
YB-39
11
56
77
61.5*31.5*21cm
YB-39
13
56
77
61.5*31.5*21cm
YB-39
15
56
77
61.5*31.5*21cm
YB-39
18
56
77
61.5*31.5*21cm
YB-39
20
56
77
61.5*31.5*21cm
** G23 and G24d is for choke/starter operation
** G24q is for HF operation
---
Model: YB-PLS Replacement Compact Fluorescent Tube
Supply Voltage: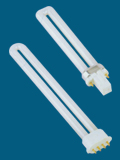 100-240V/50-60Hz
Shape: H,U,U∏,∏,A∏
Color Temperature: 2700K or 6400K

Watt
(W)
 Voltage
(V)
Lumen
(Lm) 
(Ra)
Color Temperature
(K)
Life Time
(H)
Base
(CAP TYPE)
G.W.
(Kg)
N.W.
(Kg)
5
110/220
200
≥80
 2700-7000
6000
G23/2G7
7
6
7
110/220
315
≥80
 2700-7000
6000
G23/2G7
8
7
9
110/220
450
≥80
 2700-7000
6000
G23/2G7
9
8
11
110/220
702
≥80
 2700-7000
6000
G23/2G7
12
11
13
110/220
750
≥80
 2700-7000
6000
G23/2G7
13
11.5
13
110/220
750
≥80
 2700-7000
6000
GX23/2G7
11
10
Watt
(W)
L
(mm)
L1
(mm)
C
(mm)
Ø
(mm)
Color Box
(cm)
Quantity/carton
(pcs)
Carton
(cm)
5
104
67
27.0
12.0
200
43.5x24.5x18
7
135
98
27.0
12.0
200
29.5x23.5x34
9
165
128
27.0
12.0
200
35.5x23.5x34
11
234
197
27.0
12.0
200
43.5x25.5x34
13
249
212
27.0
12.0
200
43.5x27x34
13
175
138
27.0
12.0
200
38x23.5x34
---
Model: YB-PLC Replacement Compact Fluorescent Tube
Supply Voltage: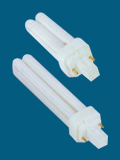 100-240V/50-60Hz
Shape: H,U,U∏,∏,A∏
Color Temperature: 2700K or 6400K

Watt
(W)
 Voltage
(V)
Lumen
(Lm) 
(Ra)
Color Temperature
(K)
Life Time
(H)
Base
(CAP TYPE)
G.W.
(Kg)
N.W.
(Kg)
7
110/220
350
≥80
 2700-7000
6000
G24d-1/G24q-1
5
4
9
110/220
480
≥80
 2700-7000
6000
G24d-1/G24q-1
5
4
10
110/220
530
≥80
 2700-7000
6000
G24d-1/G24q-1
6
5
13
110/220
750
≥80
 2700-7000
6000
G24d-1/G24q-1
8
7
18
110/220
1080
≥80
 2700-7000
6000
G24d-2/G24q-2
9
8
26
110/220
1560
≥80
 2700-7000
6000
G24d-3/G24q-3
10
9
13
110/127
750
≥80
2700-7000
6000
GX23-2
8
5
Watt
(W)
L
(mm)
L1
(mm)
C
(mm)
Ø
(mm)
Color Box
(cm)
Quantity/carton
(pcs)
Carton
(cm)
7
102
60
27.0
12.0
200
37x37x28
9
112
70
27.0
12.0
200
37x37x28
10
119
77
27.0
12.0
100
37x37x15
13
149
100
27.0
12.0
100
37x37x17
18
154
112
27.0
12.0
100
37x37x19
26
164
122
27.0
12.0
100
37x37x20
13
119
77
27.0
12.0
100
37x37x15